Rowmark's Story
The Vision
In 1987, Fred Kremer, the CEO of Hancor, Inc., a high-density polyethylene drainage pipe manufacturer located in Findlay, Ohio, had a vision. Fred saw a growing need for extruded sheet materials in the engraving market. He established a working relationship with Don and Audrey Morrison of Rowland, Inc. in New Berlin, Connecticut. With this partnership in place, he acquired a plastic sheet extrusion line and formed the Hancor Sheet Division.

In 1993, Fred purchased the sole sales and marketing rights for the awards and engraving market from Rowland. He created a new company, established as a separate division of Hancor, and named it Rowmark.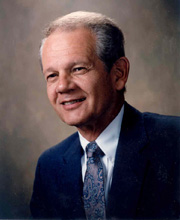 With a strong domestic presence, Rowmark set its sights on the growing international market. In 1996, Rowmark established a distribution warehouse in the Netherlands to respond to increasing European demand. Rowmark was on its way to becoming the worldwide leader in extruded sheet materials for the engraving market.
In 1997, Fred came to a crossroads. He had a greater vision for what Rowmark could become. In a display of unwavering belief in the employees of Rowmark and its growth potential. Fred resigned his position as CEO of Hancor and purchased Rowmark outright from Hancor in October that year. In addition, he purchased a building for Rowmark in the nearby Findlay Tall Timbers Industrial Park. This new, state-of-the-art facility would give Rowmark the room it needed to grow and prosper. Until the building was complete, Rowmark would continue to share facilities with Hancor.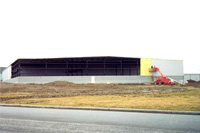 Interior construction of the facility continued throughout the fall of 1997 as Fred's vision took shape. Then, on December 20, just four months before Rowmark would begin the move into its new home, Fred Kremer and two Rowmark pilots were tragically killed in a plane crash in Findlay. Despite the difficult loss, the employees of Rowmark rallied around Fred's plan for the company and pressed on with the intended move. The Kremer Family, who to this point had not been active with the business, picked up where Fred left off, fully supporting Rowmark and its employees.
Growth and Expansion
On September 2, 1998, Rowmark's new facility in Findlay, Ohio was officially declared open. With room to add additional extrusion lines and the ability to store an abundance of raw materials, Rowmark was poised to enter a period of extraordinary growth. The final piece of the puzzle fell into place a day later, when the Kremer Family and Rowmark Board of Directors announced that Duane Jebbett had been named President and CEO of Rowmark. A strong leader and protégé of Fred's vision, Duane was the perfect person to guide Rowmark into the 21st century.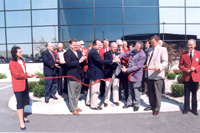 During the mid-1990s, Rowmark was the first company in the engraving materials market to develop a website, which has since evolved into an industry standard. Rowmark also developed a state-of-the-art e-commerce site by which its distributors worldwide could order products online, once again, setting the industry standard.
In 1999, Rowmark established its first joint venture to bring digital color to Rowmark through sublimatable products.
In 2001, when the industry began to see a greater infusion of laser engravers, Rowmark quickly responded by introducing a series of products engineered specifically for laser engraving.
In April 2002, Rowmark made its first acquisition of IPI (Innovative Plastics, Inc.), a competitor in the signage, engraving, recognition and personal identification market. IPI was, and continues to be known for its unique product colors, patterns and finishes.
In 2003, continuing to grow the company in a positive direction, Rowmark announced the creation of a new custom products division called Premier Material Concepts (PMC). The PMC division specialized in the manufacture of customized plastic sheet and roll stock for the thermoforming market, and was sold to the Simona Group in 2018.
Rowmark became an ISO 9001:2000 certified company in September 2004, which simply means that procedures, processes and instructions have been put in place to ensure the company's quality management system (from administration to manufacturing) is maximized to its fullest potential, resulting in quality products delivered to its customers. Rowmark has continued to maintain its ISO certification since.
A New Chapter
2007 marked a new chapter in Rowmark's history. It was announced late in 2006 that management and members of the Kremer Family had agreed to a deal with Clearview Capital, giving the private equity firm a controlling interest in the company with senior management. All Rowmark staff remained intact.
2009 was a busy year for the company. In April, Rowmark launched a new sign supply division to service the needs of the interior architectural signage market with way finding systems, plastic and aluminum frames, stand-offs, cable hanging systems and a variety of other sign supplies.
Also in April 2009, Rowmark acquired Troy Industries, Inc., a decorative films manufacturer located in Trenton, North Carolina. This move would provide Rowmark with new market opportunities, as well as vertical integration. Troy Industries has since been repositioned as Rowmark Custom Laminations.
In July 2009, Rowmark acquired Delmar Products' Engravable Division. Rowmark consolidated the production of the Delmar brand with its own line of laminated sheet products for the awards, engraving and signage industry, and the products are now produced at Rowmark's manufacturing and administrative headquarters in Findlay, Ohio.
And in October of 2009, Rowmark would acquire 100% of its former joint venture partner in Europe, and began the process to bring its European sales, service and warehouse into its present day operations near Antwerp, Belgium.
In June 2011, Rowmark acquired Southtech Plastics, Inc. as part of its strategy to develop a decorative plastics platform. Formerly located in New Bern, North Carolina, the Southtech business has since been relocated and merged with the operations in Trenton, North Carolina.
In In 2013, management along with Clearview Capital completed a sale of the company to Bertram Capital. Continuing the roadmap set forth by Clearview, Bertram and senior management remained committed to continued growth of the company.
In 2015-2016, Rowmark acquired three of its domestic distributors in the signage, engraving, recognition and personal identification markets: Johnson Plastics, Bur-Lane and LaserBits. All three businesses would later be combined into a new entity, Johnson Plastics Plus (JPPlus), with several U.S. distribution locations to serve the market.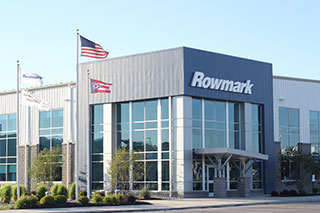 In the fall of 2015, Rowmark moved into a brand new, state-of-the-art facility. This would allow the Rowmark and PMC divisions room to grow in their respective markets. Also in 2015, Rowmark established Rowmark Australia, bringing products to the customers of Australia and New Zealand on a direct basis.

In the spring of 2018, Rowmark's JPPlus opened a new office and warehouse location in the Minneapolis, Minnesota area, as well as a relocation of its Dallas, Texas branch location – both in an effort to provide a world class experience to its customers and modern work environments for its employees.
That year, Rowmark's management, along with Bertram Capital, completed a sale of the company to Windjammer Capital. Rowmark made its first acquisition under Windjammer's ownership in October 2018 with the purchase of Gyford Productions, a leading manufacturer and marketer of hardware and mounting solutions for the signage, trade show design, retail and interior design markets.
As 2018 came to an end, Duane Jebbett announced his retirement as President and CEO of Rowmark. Duane led the employees of Rowmark through times of extraordinary change and growth, striving to carry Fred Kremer's vision and legacy forward. After more than 20 years at the helm, the Rowmark Team said goodbye to their leader in January 2019.

In February 2021, Rowmark welcomed Al Kabus as the company's new CEO. Al brings a wealth of experience to the Rowmark team. Over his career, Al has demonstrated successful leadership in numerous and diverse corporate manufacturing, service and technology companies. Most recently, Al served as President and CEO of Panolam Industries, Inc. a $300M industry-leading manufacturer of high-quality, innovative surface materials. Al is excited to join the Rowmark team and looks forward the growth opportunities ahead.

Rowmark Today
Rowmark employs more than 280 people worldwide. Rowmark products can be purchased from more than 150 distributors in 80+ countries. The company's future plans include product line, geographical and market expansion. Although the company's founder, Fred Kremer, has been gone since his untimely death in 1997, it's clear that his vision is alive and well, and his legacy continues to be nurtured by the Rowmark Team.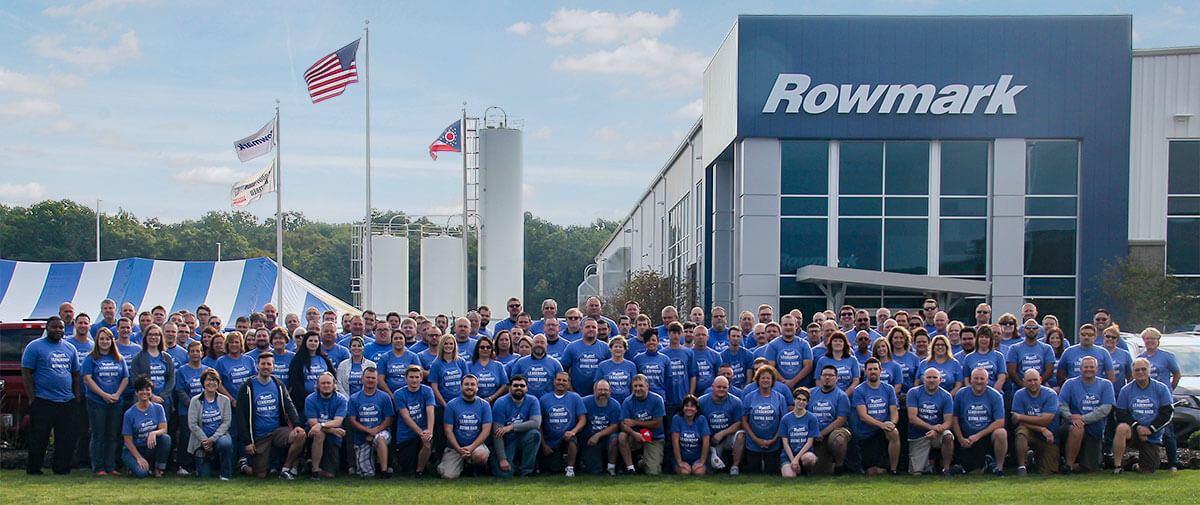 The Future
Rowmark continues to invest in growth and expansion. Located in Findlay's Tall Timbers Industrial Park, the Hamlet Drive facility features 90,000 square feet of production and office space with additional room for expansion.